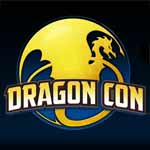 comedy4cast is on the road again! We're headed back to Atlanta for Dragon Con!
Pack your bags and join us for a weekend of amazing things. Here's a list of what we will (officially) be up to:
Friday, August 29
2:30pm #PizzaFriday lunch at the Mellow Mushroom
Yup, the tradition continues. After all, #PizzaFriday is a comedy4cast essential! But Clinton can't miss the Podcasting track kick-off panel. So, lunch will be after that session. Meet on the sidewalk outside the Peachtree Street entrance to the Hyatt Regency (the doors just past the hotel's "Sway" restaurant) at 2:30pm for a short walk over to the Mellow Mushroom, 400 West Peachtree Street. Be sure to follow comedy4cast on Twitter for updates.
UPDATE: Want to share a ride to the mellow mushroom? email Diane at davysitter @ gmail.com  – she we make arrangements according to how many respond – the ride will be free!!
7:00pm comedy4cast and Technorama Super Extravaganza
That's right. This year comedy4cast has joined forces with Technorama to bring you all-out insanity! This promises to be one amazing session. And we have plenty of surprises in store. Make your way to the Podcasting track, Room 203 of the Hilton (second floor, right near the escalators). Don't be late. You won't want to miss a minute of the fun.
Saturday, August 30
10:00am 13th Annual Dragon Con Parade
This year Clinton is joining the crew from Technorama (and others) to do something very special for the parade. I won't spoil the surprise, but you will need to stay until the very end of the parade to see us. But relax, while you wait you can see everything from Star Wars Stormtroopers to Star Trek Redshirts, Wizards to Zombies, Superheros and Guests of Honor.
Sunday, August 31
5:30pm 2013 Parsec Awards
comedy4cast is, once again, honored to be a finalist for the Best Speculative Fiction Comedy/Parody Podcast award. Come and cheer us on (and all the other great podcasts). While it's an honor to be nominated, perhaps we will win this year. Regardless, this event is always a fun time. The awards ceremony will be held in the Regency V Ballroom at the Hyatt.
That's it for the moment. If more gets added to the schedule, we'll try to add it here. But Twitter is really the best place for up-to-the-minute details.