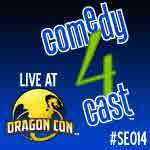 Another year, another great live show at DragonCon, Atlanta's HUGE convention for fandoms of all kinds.

Photos courtesy of Kyle Nishioka
This year, things were a bit different. We combined the comedy4cast and Technorama shows into one huge hour of mayhem and foolishness, including special guests and suprises along the way. Very special guests lending a hand in the show include Kreg Steppe and Chuck Tomasi ("Technorama"), John Bell (podcaster and author of "The Devil's Pinata") and Grant Baciocco ("The Radio Adventures of Doctor Floyd" and "Saturday Morning Media"). Approx. show length: 35 minutes.
Links
>> Technorama podcast
>> Bells in the Batfry Podcast
>> The Devil's Pinata
>> The Radio adventues of Doctor Floyd podcast
>> Saturday Morning Media
>> DragonCon
>> Follow comedy4cast on Twitter
>> Become a comedyr4cast fan on Facebook
>> Call the Super Secret Phone Line: (360) 515-0004
>> Drop us an email at comedy4cast AT gmail.com
Podcast: Play in new window | Download